Andrew Luck and Robert Griffin III have become well accustomed to comparison. All eyes were on both quarterbacks during the 2012 Heisman Trophy ceremony, where Luck watched as Griffin took home the coveted award. Then it was on to the 2012 NFL draft, where it was Luck's turn to walk away with the top spot, drafted No.1 overall by the Indianapolis Colts, while Griffin was drafted No.2 by the Washington Redskins. And going in to this NFL season, there was no question that the comparison would continue, with sports writers sure to critique every move of the two quarterbacks, from the speed of their passes to the result on the scoreboard.
The scrutiny comes with good reason though, as many inside the NFL have already dubbed the 2012 quarterback class as the best yet. Luck and Griffin bring a level of athleticism and maturity to the quarterback position that the NFL has not seen before at the rookie level. At the same time, both quarterbacks have clear differences in their style of play- Luck is more of a traditional play-in-the-pocket quarterback with an impressive ability to move around aggressively and scramble for first downs, which have been a big help for the Colts. On the other hand, Griffin is clearly a running quarterback with lightening fast speed, but with a skillful throwing arm to match that has wowed fans and players alike.
So when it comes to comparing these two quarterbacks, does one look strictly at individual player stats, the hype they've created for their organizations, or the records of their respected teams? Looking purely at stats is already a hard call – while Griffin has an impressive 101% rating with 2,193 yards and 12 touchdowns, Luck has a notably lower 77.2% rating but a whopping 2,985 yards and also 12 touchdowns, along with a slew of rookie passing records under his belt already.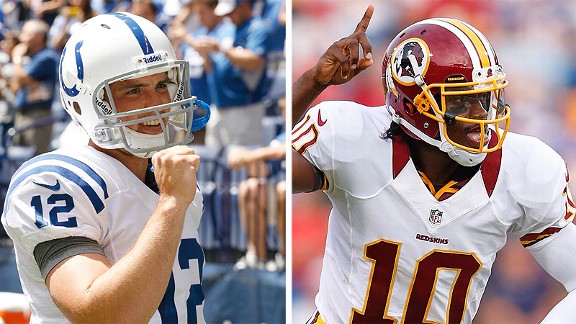 As for hype, that's another close one. Griffin certainly seems to have led the hype factor in the beginning of the NFL season, with his dynamic playmaking ability and speedy "how did he just do that" maneuvers. But a stunning 30-27 win for the Colts over the Green Bay Packers during Week 5 put Luck back on everyone's radar. And following a loss to the New York Jets, the Colts went on to have a four game win streak, while Griffin and the Redskins suffered three straight losses.
But on any given Sunday things can change and Week 11 proved it. Following a much needed bye week, having blamed himself for the Redskins poor play, Griffin seemed refreshingly on point in the Redskins 31-6 win over the much troubled Philadelphia Eagles. The game was a high point for Griffin who completed 14 of 15 passes, throwing four touchdown passes against zero interceptions. Meanwhile, Luck was getting a dose of reality handed to him by Tom Brady and the Patriots, who beat the Colts 59-24 that same day.
If we base the comparison of Luck and Griffin solely on their team, then clearly Luck is out in front. The Colts are currently 7-4 and could still very well make a wildcard playoff spot, but need to win at least one of two scheduled games against the red hot Houston Texans.
As for the Redskins, a 5-6 record in the NFC East is going to make any playoff birth an uphill battle for a team that is plagued by injury and is relying on second string receivers, along with a less than perfect defense.  Yes, the Redskins did win 2 in a row, but let's be honest… did you see them getting beat by the Eagles? And the Cowboys came back in the second half of Thursday's game to come close to beating the Redskins, whose defense clearly was starting to fall apart.
Griffin, as good as he is, will not be able to do it all on his own. He needs receivers that can hold on to the ball  (though that is likely not happening until next season) and a defense that can play the whole game, instead of flaking out towards the second half.
So is Luck the better quarterback given his team is still in the hunt for a playoff spot, or does Griffin's talent alone in spite of his team's situation make him the better quarterback?
---
Andrew Luck or RG3
[poll id="2″]