For more than 200 years, American citizens have witnessed the Inauguration ceremony for our President and Vice President. It is a time for each President to offer his vision for America's future. This coming Monday will be the 57th Presidential Inauguration for Barack Obama as he's sworn in again as our 44th President. Here are some 2013 Inauguration facts!
---
An estimated 600,000 to 800,000 people attend.

source
Largest attendance in history was Jan 20, 2009 with 1.8 million attendees (President Barack Obama).
Twenty 21 feet Jumbotrons will be set up on the National Mall for better viewing.

source
An estimated 240,000 tickets will be handed out. Some tickets entitle people to seats but most entitle the ticket holder to stand.

source
The first inauguration was April 30, 1789 for George Washington.

source
The 57th inauguration will be the seventh time the constitutionally-mandated inauguration date has fallen on a Sunday. An actual private swearing-in ceremony will to be held on Sunday, but the public ceremonies will occur the following Monday.

source
The last time time a President had to be sworn in privately on the 20th was for Ronald Reagan. The inauguration took place on 21st in the Capitol Rotunda because of freezing weather (-7°).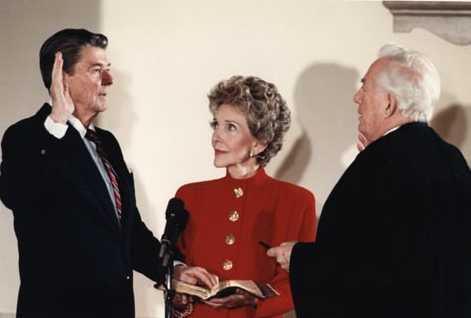 source: http://www.inaugural.senate.gov/about/history
This will be the first time there is an official Inauguration app for smart phones.

The app will provide livestream video of inaugural events, including the Jan. 21 public swearing-in ceremony. Download it here.
The inaugural platform is constructed entirely from scratch for each inaugural ceremony.

It is built entirely of lumber, to protect the surfaces of the Capitol. The cost of platform up to $4.2million (source).
2800 applications from groups around the world requested to march in the parade and only 60 made the cut.
147 horses are participating.

source
28,189 chairs are being used.

source
More than 50,000 volunteers help out during the inaugural festivities.

source
---
The forecast will be COLD with a high of 37° and a low of 25°. Dress warm!