On Super Bowl Sunday, the Denver Broncos and Seattle Seahawks will likely have the attention of any room, but coming at a close second will be the food spread you plan on serving up to your guests. Because let's be honest, aside from the big game, the Super Bowl is that lovely excuse to put all of your favorite (and likely bad for you) foods on one table and throw back copious amounts of adult beverages. So, here at Cloture Club, we want to make sure your feast is the talk of the town!
We've rounded up some of our food contributors' favorite recipes for the big day, along with getting even more delicious recipes and tips from our favorite Belgian import, Chef Bart Vandaele, chef and owner of DC hot spots Belga Cafe andBToo.
---
Alex's Guacamole (serves 10-12)
So many people say they make the best guacamole and clearly I'm bias, but this is the BEST recipe you'll find!  ~ Alex Benedetto (@sportsfoodalex)
Ingredients:
6-7 large ripe avocados, halved and core removed
1 medium onion, chopped
1 clove garlic, chopped
3 tablespoons fresh cilantro, chopped
2 plum tomatoes, chopped
Juice of 2 limes
1 heaping tablespoon ground cumin
1 jalapeno, seeds removed (keep if like hotter) and chopped
Salt and pepper
Preparation:
Scoop out the insides of the avocados halves into a large bowl. Slightly mash the avocado with the back of a fork.
Add in the rest of the ingredients and using a sharp knife and fork, slice through the mixture until everything is finely diced.
Finish off by mashing everything with your fork. Serve with corn chips and enjoy!
---
Chef Bart Vandaele's Secret Belgian Frites and Homemade Mayo (serves 10)
The secret in perfect frites is in the potato itself. You need potatoes with a perfect balance in water, starch and sugar. At Belga Café and B Too we use GPOD Russet Burbank potatoes from Idaho. ~ Chef Bart Vandaele
Ingredients:
10 GPOD Russet Idaho Potatoes
Frying Oil
Preparation:
Peel 10 GPOD Idaho potatoes.
Cut Potatoes lengthwise into sticks approximately ¼ of an inch by ¼ of an inch.
Rinse the potatoes in cold water removing excess starch. Drain and repeat until water runs clear.
Thoroughly dry the cut potatoes. Par fry the potatoes for around 5 minutes at 200 degrees Fahrenheit.
Spread fries on sheet pan to cool. Bring to room temperature. The steps up until this can be done in advance.
When ready to serve frites, heat oil to 300 degrees Fahrenheit and fry a second time until nice and golden brown and crispy.
Real Belgian Mayonnaise:
Ingredients:
7 Egg Yolks
1 Tablespoon Dijon mustard
5 Tablespoons White Vinegar
1 Liter Canola Oil
Preparation:
Whisk first 3 ingredients together.
Slowly drizzle in the canola oil while constantly stirring with a whisk.
Season with salt and pepper.
---
Better Than Beyonce BBQ Pulled Pork Sliders (serves 10)
I've never been a crock pot user but this recipe changed all of that. Few ingredients, easy preparation and the result is amazing. Perfect for game day. ~ AB
Ingredients:
2 2-lb Pork Tenderloin
24 oz. Root Beer
32 oz. BBQ Sauce (use more or less to your liking)
Jalapeno peppers, chopped
Red onions, chopped
Mini hamburger buns or rolls
Preparation:
Place the pork tenderloin in the slow cooker and pour root beer on top. Cook on low for 6 hours.
Drain the pork and place it into a mixer with a paddle attachment and on low-speed, mix to slowly shred the pork.
Place the shredded pork back into the empty slow cooker (no root beer or juice in there) and add your BBQ sauce. Mix to incorporate and let the pork sit in the slow cooker on warm for another 20 minutes.
Serve on mini rolls with chopped jalapeno and red onion.
---
Potato Rolls with Bacon and Chimay Cheese (serves 10)
-For this dish you need a very dry mashed potato. The mashed potatoes should not contain much liquid as they will burst and not hold together when fried. ~ Chef Bart Vandaele
Ingredients:
10 Potatoes
1 bunch Parsley
½ lb. Bacon, cooked and crumbled
1 Wheel Chimay Cheese
Spring Roll Wrappers
Preparation:
Peel 10 potatoes and cut in to 1-inch by 1-inch cubes. Rinse potato cubes in cold water several times to remove extra starch.
Boil potatoes in salted water until tender. Return cubes to dry pot and cook over medium heat to evaporate any excess water.
Run the potatoes through a potato ricer, or food fill. Finely chop one bunch of parsley and mix into potatoes.
Cook, drain and crumble ½ pound of bacon and add to the potato mixture. Remove the skin of a wheel of Chimay cheese, dice into cubes and add to potato mixture. Season with salt and pepper and ix potatoes well.
When potatoes are cool, place into a piping bag. Pipe potato mixture along the center of the spring roll wrapper. Pull bottom edge of wrapper up over filling, fold both sides in and roll. The result should be like a spring roll.
Bring oil to 300 degrees Fahrenheit and fry rolls until golden. Around 4 minutes.
---
Bacon Wrapped Dates Stuffed with Goat Cheese
These small bites are heavenly, easy to make and will be a welcome addition to any Super Bowl feast. ~ AB
Ingredients:
24 large Medjool dates, cut in half
12 slices of bacon, halved horizontally
4 oz. goat cheese
Preparation:
Preheat the oven to 400 degrees Fahrenheit. Line a baking sheet with aluminum foil and spray the foil with non-stick cooking spray.
Using a sharp knife, carefully cute a lengthwise slit in the dates and remove the pits. Equally stuff each date with goat cheese and then pinch the dates closed.
Wrap each date in a piece of bacon and place each wrapped date seem side down on the baking sheet.
Bake the dates for 20 minutes, turning each date over after 10 minutes. Wait a minute or two before serving to guests, as these are very hot right out of the oven.
---
Five Ingredient Chicken Chili
From Gimmesomeoven.com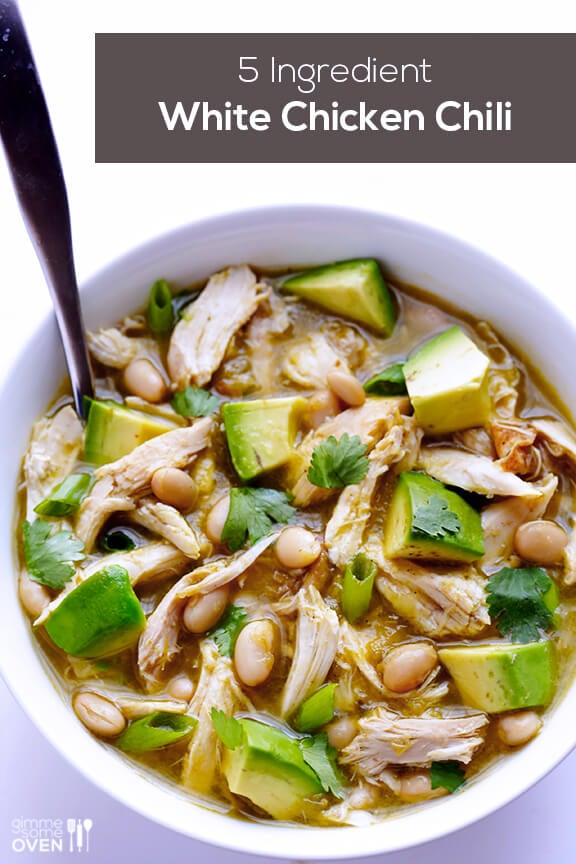 This chili is easy, delicious and adaptable. I've made it with red or black beans, instead of white beans. I've also made red salsa, instead of green salsa, by replacing the tomatillos in the salsa recipe with diced tomato. I like to garnish it with fresh avocado. ~ Jacque Isaacs
Ingredients:
6 cups chicken broth
4 cups cooked shredded chicken
2 (15-oz.) cans Great Northern beans, drained
2 cups salsa verde
2 tsp. ground cumin
Toppings: cilantro, shredded cheese, green onions, sour cream, avocado
Preparation:
In a medium saucepan over medium-high heat, combine chicken broth, shredded chicken, beans, salsa and cumin.
Cook until boiling, then cover and reduce the heat to medium-low.
Simmer for about 5 minutes and then serve up hot with your choice of toppings.