Studio 201 Party at 201 Bar (Capitol Hill)
Where: 201 Massachusetts Ave NE
Price: FREE
Website
Join us this New Year's Eve as we turn 201 Bar into STUDIO 201! NO COVER • DJ • Dance Party • Disco Ball • Photo Booth • Servers on Roller Skates • Free Champagne Toast at Midnight & Liquid Cocaine Shots
HR
A White Ford Bronco NYE Party at Lincoln
Where: Lincoln Theatre
Tickets: $45
LINK
DC's beloved all-90s party band, White Ford Bronco, metes out sizzling slabs of rock; decadently dulcet pop ditties; and heaping, hot bowlfuls of "OMG-I-Freakin'-Love-This-Song!!!!!!" all lovingly crammed down the throats of the teeming, carousing masses who gather to have their ravenous appetites for the songs of two decades ago (yeah, it's been that long) oh-so-thoroughly satisfied.
---
International Spy Gala Washington DC New Year's Eve (Chinatown)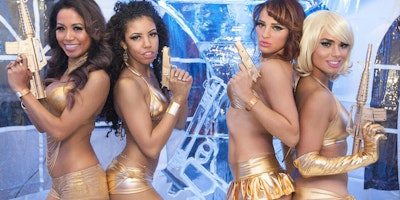 Where: International Spy Museum
Price: $119
LINK
Sexy Singles, Sultry Couples, Provocative Partners, Secret Agents, Spies, Villains and Femme Fatales (21+) Operatives rendezvous for a New Year's Eve Countdown 2015/2016 mission filled with espionage and excitement at the International Spy Gala in Washington DC.
---
Where: The Manor
Price: Tickets starting at $80
Link
Enjoy dazzling views of D.C.'s famous Connecticut Avenue, and an unbeatable skyline seen through The Manor's modern floor-to-ceiling windows. Located in the heart of Dupont Circle, it's truly on of the hidden gems of D.C.
---
Ring in 2016 With a Roaring 20's Party on the Hill (Capitol Hill)
Where: Kelly's Irish Times
Price: $69
LINK
United Social Sports invites the fellas and dames of Washington DC to ring in the New Year with a raucous roaring 20's party at Kelly's Irish Times!  Enjoy an open bar (including Prohibition Era-inspired Cocktails,) assorted appetizers and great music courtesy of a live DJ.HR
---
New Years Eve Moonlight Circus 2016 (Downtown)
Where: Hyatt Regency
Price: Starting at $109
LINK
Moonlight Circus makes it's grand return to the Hyatt Regency in Capitol Hill Washington, D.C. This year's main event is back and bigger than before. The LX Group is bringing back multiple circus acts and nationally known DJ's. Moonlight Circus will light up New Year's Eve like no other party in the District.
The Hamilton with 19th Street Band
Where; The Hamilton
Price: $25
LINK
The 19th Street Band has had the honor of sharing the stage with country music stars such as Craig Morgan and Chuck Mead. They have opened for Rascal Flatts and Toby Keith at Jiffy Lube Live as well as Grammy Award-winning Western Swing icons Asleep at the Wheel at The Birchmere.
---
Proper New Year's Bash (Dupont)
Where: Dukes Grocery (Home of the Proper Burger)
Price: Free
LINK
Join us for an epic New Year's Eve party featuring: Drink specials all night on your favourites from the U.K. (Pimm's Cups, Bombay Sapphire, all Single Malt Scotch); No cover charges; Complimentary NYE party gear
---
New Year's Eve Masquerade Ball

Where: Howard's Theater
Price: $45
LINK
Complimentary Masquerade Masks
Decors & Party Favors for All
Live Countdown from Time Square NYC
---
Washington DC New Year's Eve Passport To The World Gala: An International Red Carpet Affair
Where: Capitol Hilton
Price: $149
LINK
Your Washington DC New Years Eve gala is our hottest party of the year. Each year, more than 3,000 people join us for one amazing night. Bring your friends, or come alone and meet new friends! We offer different color bracelets for singles and couples, so it is easy to see who is single and who is not.
---
Headline